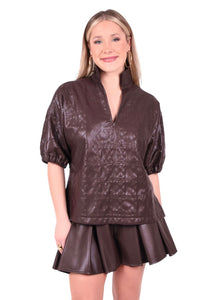 Full Body
Loose Elastic Dolman Sleeve
Fit: Forgiving, recommended to size down
Vegan Leather - 100% Polyester
Hand wash with gentle liquid or powder detergent. Cold water will help preserve color & shape. Lay flat to dry.
Designed by Emily McCarthy in Savannah, Georgia, USA 
Model is 5'7" and is wearing a size small.